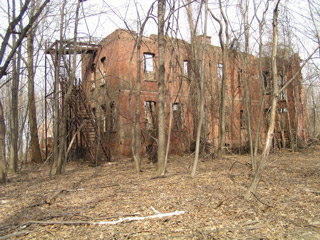 DATE BUILT: ca. 1898-1908 (main wings)

STYLE: Colonial Revival

PRINCIPAL ALTERATIONS:
Phase 1—center pavilion and front east wing (ca. 1898);
Phase 2—western half of rear east wing and connecting corridor (ca. 1904);
Phase 3—front west wing, rear north wing, and eastern half of rear east wing (ca. 1908);
Phase 4—corridor connecting Hospital and neighboring Recruit Examination Building (Building 42) (ca. 1912-1914);
Phase 5—enclosure of courtyard between corridors connecting front and rear wings (ca. 1938-1942);
Phase 6—boiler room-utility area between rear wings (ca. 1955).
Porches of the front east wing were enclosed with half-height skirt walls and multi-pane windows in ca. 1915-1920. In the 1950s interior steel framing was installed in the rear east wing and its second-story windows were bricked in. Large, self-supporting steel fire escapes were also added at several points around the building in the 1950s.

OTHER DESIGNATIONS: Functioned as the Post or Station Hospital until ca. 1951; thereafter served as Headquarters (Administration Building), U.S. Army Chaplain School (1951-1962). Designated as Building 32-A (1898-1941); Building 151 (1941-1957); Building 48 (1957-ca. 1986). Current designation as Building 46 introduced sometime after Fort Slocum closed (1965) and before the first historic architectural inventory was completed (1986).
DESCRIPTION:  Building 46, built as the Post Hospital, was a large, two-and-a-half-story brick building with an irregular floor plan. Essentially, it had four wings extending off a core section that included the forward-projecting pavilion at the front (southern façade) and some adjoining corridors and later additions. The wings were apparently originally designed primarily as wards, and together the wards gave the hospital a capacity of 102 beds. The hospital also included examination rooms, offices, laboratories, kitchen and other types of rooms, but research to date has not located any complete floor plan for the building, either when it functioned as a hospital or later when it served as the Chaplain School headquarters.

The building was built following standard plans developed by the U.S. Army Surgeon General's Office. Its floor plan reflected a modular approach to hospital design, which allowed repeated expansion as circumstances required.

Viewed from the south, the building presented a nearly symmetrical façade consisting of a central pavilion flanked by two wings with prominent wood-frame wraparound porches. For most of the building's existence, the front east wing porches were enclosed, while the front west wing porches were open.

Key architectural features of Building 46 included medium-pitch hipped roofs with hip-roofed dormers; simple cornices; red brick walls; rectangular window openings with segmental-arch lintels and fine-grained-rock sills (granite, schist or brownstone); finely-dressed quarry-faced schist ashlar foundation laid in random courses; an extensive set of two-story wraparound porches supported by plain brick piers; porch balustrades with fine, closely-spaced balusters; and a general preference for symmetric facades.
HISTORICAL NOTES: The Army first occupied Davids Island during the Civil War and used it as a general hospital for convalescing Union soldiers and Confederate prisoners of war. Later, the medical responsibilities of the post became secondary to its role as a recruit depot, coastal fort and training installation.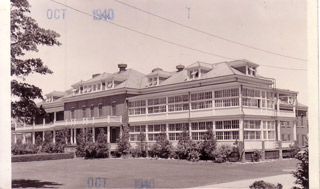 During much of the period from the late 1870s to the mid-1940s, the post served as an intake point for new recruits, and Army doctors screened enlistees for diseases and disabilities. Building 46 was constructed during this period. By the 1950s, changes in the post's mission and population and improvements to regional transportation systems meant Fort Slocum no longer needed a full-service hospital. The medical functions of Building 46 were replaced by a post clinic in neighboring Building 42, which in certain earlier periods had served as the post's Recruit Examination Building.

The earlier predecessor of Building 46 on Davids Island was erected in 1862 as part of De Camp General Hospital. This was a one-story, U-plan, wood-frame building located on the eastern side of what later became the Parade Ground, about where Fort Slocum's Post Exchange (Building 70) was later constructed. De Camp's main hospital building was used primarily for surgery. Soldiers convalesced in separate ward buildings or tents located elsewhere on the post. This building was erected expediently, like nearly every other structure at De Camp, and it was removed in the 1870s.

The second main hospital building was constructed in 1878-79 immediately south of the area later occupied by Building 46. This second hospital was also a wood-frame building, whose basic ground plan featured two one-story wings projecting off a two-story central pavilion. Its design reflected standard Army post hospital plans of the period developed by the Surgeon General's Office. On casual inspection, the ground plan and general location of the second hospital resemble the front section of its successor, Building 46. Historical photographs and careful study of 19th-century maps and other evidence demonstrate that this second hospital was a different building from Building 46. The second hospital was demolished in about 1904, around the time of the first expansion of Building 46, the then-new brick hospital located behind it.

Building 46 was the third and final main hospital building to stand on Davids Island. It was built during the period when Fort Slocum was a seacoast fortification and recruit depot. It had ceased to be used as a hospital by the time the Army moved the Armed Forces Information School and the Army Chaplain School to the post in 1951. From 1951 to 1962, it served as headquarters of the Chaplain School and contained offices and classrooms.