DATE BUILT: 1944

STYLE: Other—mid-20th century expedient construction

PRINCIPAL ALTERATIONS: None documented

OTHER DESIGNATIONS: Building T-18 (1944-1957)
DESCRIPTION: Building 135 was a two-story concrete block barracks. It was one of five buildings erected on the western side of the Mortar Battery in 1943-1944 to provide quarters and other facilities for servicewomen.
 
The building was a severely plain end-gabled building with a low-pitch roof. It was one of two similar barracks (Buildings 134-135) erected adjacent to one another in 1944. Unlike its neighbor, Building 135 had a boiler room that provided heat to both buildings.

The exterior was unpainted and unadorned concrete block. Both floors had 10 regularly-spaced double-hung wood-sash windows, and there were entrances at each end of the building. On the interior both floors were apparently laid out with a central corridor and individual rooms accommodating several women each.
HISTORICAL NOTES:   In May 1943 Fort Slocum received its first contingent of more than 80 members of the Women's Army Auxiliary Corps (WAAC).
This organization and its September 1943 successor, the Women's Army Corps (WAC), whose members were known as "Wacs," supplied the Army with female personnel for noncombatant military jobs, freeing the men they replaced for service in combat zones.
At Fort Slocum, Wacs served as file clerks, typists, stenographers, messengers, telephonists, mess hall staff, motor pool drivers, morale and recreation personnel, and hospital technicians and orderlies. Their range of duties expanded as they gained experience in Army life and their male counterparts gained confidence in their abilities. The several hundred Wacs who served at the post were among the more than 150,000 women who enlisted in the Army during the Second World War.
Before the first WAAC contingent arrived, Fort Slocum, like every other Army post, had never had a large contingent of servicewomen, and it had no quarters specifically designated to accommodate them. The women could not simply be housed in a building in the Barracks Area because the social conventions of the time discouraged groups of unattached men and women from living close by one another.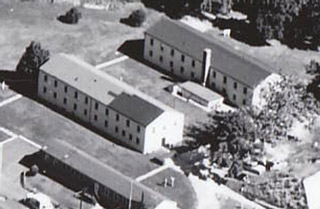 Instead, the post constructed a new group of barracks for the women at the southern end of Davids Island, well separated from the main Barracks Area in the island's northeastern quadrant, where the large body of enlisted men lived. The new barracks stood in an area where several recently-demolished First World War-vintage temporary buildings, including a stable, had been previously located.

Eventually, the WAC barracks comprised five one- and two-story buildings. The first three were completed in July 1943. These three buildings—Buildings 130, 131, and 133—were green-shingled wood-frame structures. The other two buildings—Buildings 134 and 135—were completed in September 1944 and were built of concrete blocks.

After the Second World War, the Army continued to use part of this group of barracks to house servicewomen, including staff, faculty, and students assigned to the Armed Forces Information School. In the mid-1950s, however, part of the group was incorporated into the Nike missile battery and housed the male personnel of the battery's Integrated Fire Control area.