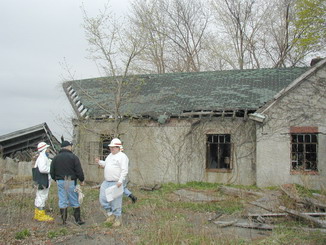 This Web site, "The Army's Century on Davids Island," helps preserve the rich past of Fort Slocum by presenting selected historic and contemporary records, photographs, maps and other materials. It was officially launched in 2009.

The materials included in the Web site are a sample of the digital records collected and created by the U.S. Army Corps of Engineers, New York District. Additional materials are in the Davids Island Digital Repository of the New Rochelle Public Library's local history collection.
The Corps supervised the development of the Web site. The Web site was one of several activities intended to offset the demolition of the Fort Slocum Historic and Archeological District. 

In addition to the Web site, the Corps supported archeological surveys, studies of Fort Slocum's historic landscape and buildings, and oral history interviews. It also studied alternatives for the preservation of buildings and ruins, sought repositories for salvaged architectural materials and met regularly with local officials and other interested parties to discuss the results of these efforts.
The Corps designed these activities to meet its obligations under Section 106 of the National Historic Preservation Act, which directs federal agencies to act in ways that ensure wise stewardship of our nation's historic properties. A memorandum of agreement created in 2005 between the Corps, the City of New Rochelle, Westchester County and the New York State Historic Preservation Office established the scope of these activities.